I stumbled upon the Nishika N8000 in a procrastination effort, and my curiosity for this boxy 35mm quadroscopic lenticular cam bought me at least a weekend's worth of entertainment.
I'm in my last term of graduate school, and the only thing standing between me and my M.Ed is completing my master's thesis. So naturally, instead of doing research, I like to browse online for all the lomographic goodies I can find. There's nothing better than a new camera to assist my chronic procrastination! For a measly $11 on Amazon.com it was ordered, shipped, and delivered to my doorstep.
The first thing I noticed about the Nishika when I met her is that she is BIG and HEAVY… what she lacks in charm she makes up for in girth. Somewhat taken aback, I examined this brick of a camera.
THE EXAMINATION
The Nishika has a "quadra lens system," which is a fancy pants way of saying it has four lenses. You stretch the 35mm film over her panorama-sized backside, and four frames are taken at once. If you use 35mm color negative film, you can develop at any local lab. Other than the four lenses, she has the parts of a typically cheap 35mm camera: tripod mount, hotshoe, standard winding and re-winding levers, frame counter, and a shutter button with multiple exposure protection.
There are aperture settings that appear to be for sunny, partly cloudy, and cloudy/indoors. She takes two AA alkaline batteries— but that is only if you think a "low light meter" is necessary, which is actually a red dot that appears in the viewfinder if you are in a "low light" environment. There is also a small button that tests the battery by lighting up a small red light on the front of the camera. So far, these are the only two functions I have found that would require batteries. Personally, I would take out the batteries if only in an effort to try to lighten her load.
The camera also has a fake led screen that serves as a "reminder" to the user of the ideal distances of objects in frame in order for the photo to appear 3d, which is 6ft for the foreground, 15-22ft for the midground, and 25ft-infinity for the background.
THE TRIAL
I was initially turned off by her being big, clunky and fat, because she definitely isn't slipping nicely into my purse like my Diana Mini or even my Sprocket Rocket. Thinking she would cramp my style, I reluctantly took her out for my first test run using some expired Fuji Superia X-Tra 400 on a cloudy day.
The 3D effect of lenticular cameras is caused by the distance between each lens creating parallax effect from one frame to the next. In the case of the Nishika, four frames are exposed at the same time, which will give birth to images like this:
You of course can keep her like this, and she will be like a super sampler minus the super. Or, since she is a 3D camera, you can go for the 3D affect, and create "wobble" images using a gif animation programs. Ulead Gif Animator and Easy Gif Animator are two programs that you can download from the internet. I used Easy Gif Animator because it comes with a free trial period, and being a graduate student, my only options are inexpensive or free. Using a program like this, you can create a wobble image by sequencing each photo after another in a "1, 2, 3, 4, 3, 2, 1" pattern, thus causing the illusion that the images are "wobbling."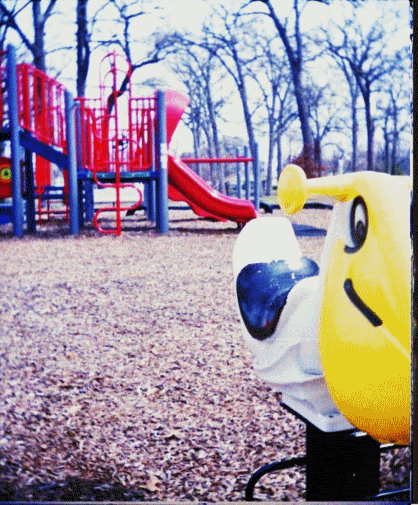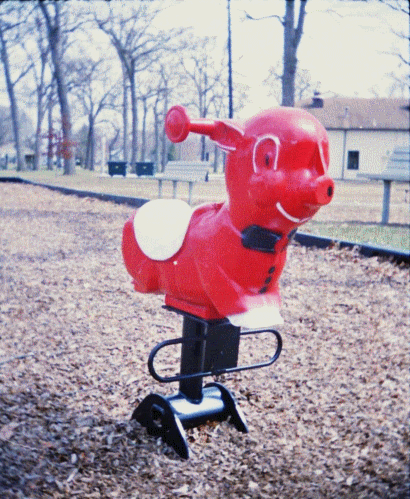 THE VERDICT
I found that with 400 speed film, she actually overexposed a bit on a cloudy day, and I had to do some work with my scanner software to bring the negatives down a bit. I think as long as you trust your knowledge of what film you have in instead of the silly red "low light meter" you will do fine. There is a little vignetting, and I'm sure with different light conditions I might see more from her. One day, if I feel adventurous, I might cut her apart or slap on some masks or gels and write some tipsters on what we make together.
The Nishika N8000 looks like the ugly cousin that doesn't belong, but she is still a part of my happy lomo family. If you drop by I'll let you borrow her any time— you'll be more likely to find her on my bookshelf than around my neck.
written by 0live on 2011-04-10 #gear #people #review #camera #quad #3d #lenticular #wobble #user-review #nishika #quadroscopic