Yes, it's here! We are incredibly proud to launch our first dedicated instant camera via Kickstarter, available in four editions and packed with features for limitless and instant experimentation. Find out more here …
Say hello to the Lomo'Instant Camera! The most creative camera in the world, with an advanced lens system which includes a built-in Wide Angle lens and Fisheye and Portrait Lens attachments, 3 shooting modes and a magic box of features: infinite long exposures for lightpaintings, unlimited multiple exposures, four colour gels and easy 2 step focusing!
We are crowdfunding the Lomo'Instant Camera through Kickstarter. To make massive savings on your new instant and for exclusive rewards, please back our project and make the instant dream come alive!
Visit our Kickstarter Lomo'Instant Camera Page and the Lomo'Instant Camera Microsite for more details.
The Lomo'Instant is available in four awesome styles and is the perfect size to take wherever you go! It's the most creative way to shoot fantastic photos which you can share anywhere and with everyone in an instant. Enjoy the beauty of analogue photography and get inspired with this feel good instant camera!
Go Wild With Lovable Instant Features
Advanced Lens System: One built-in wide angle lens, plus additional Fisheye and Portrait lens attachments available.
3 Shooting Modes: Shoot photos with auto-flash on, or take direct control with manual shooting modes (with flash and without flash).
Unlimited Multiple Exposures: Combine multiple shots on one frame for amazing experimental instants.
Infinite Long Exposures: Perfect for low light, dawn/dusk and night-time shooting. Get artistic with light painting and create beautiful light streaked instants!
Color Gels: Transform your photos with color by shooting with fun color gels!
Easy 2 Step-Focusing: Quickly get the shot you want.
Uses Fujifilm Instax Mini Film: The most widely available instant film on earth.
Tripod Mount and Cable Release Thread: Advanced extras for ultra-impressive instant photography!
Four Stunning Designs Available: We have created four editions of the Lomo Instant Camera for you to choose from.
An Ultra-Advanced Lens System
Wide Angle Lens (built-in): This 27mm equivalent wide angle lens captures more than your eyes can see and allows you to shoot uber-cool up-close-and-personal shots with the 0.4 closest focusing distance. It's perfectly suited to spontaneous instant shooting and we love using it for selfies!
Fisheye Lens Attachment (Included in the Lens Package): Get hooked, lined and shamelessly sinkered for wonderful circular instants with the 170° Fisheye Lens Attachment.
Portrait Lens Attachment (Included in the Lens Package): This 35mm equivalent lens attachment is incredibly versatile and gives great results indoors and out. It's great for portraits as well as street photography and landscape shots.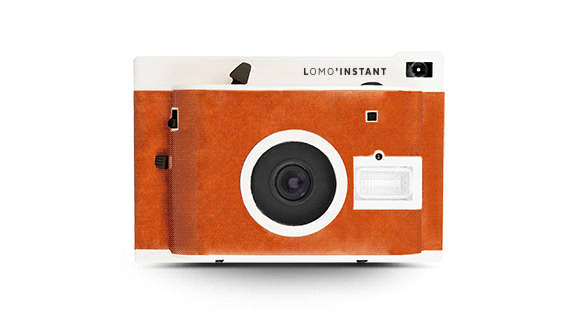 Help This Camera Start Snapping
We are really thrilled to be working on this "Kickstarter project": and can't wait to start snapping with the Lomo'Instant. We would love for you to support us on this mission because we really need your help to make this ground-breaking instant dream come to life.
The retail launch price of the Lomo'Instant is currently planned as being between $120 and $150, so with the Early Bird Deal rewards, you save at least 40%! We plan to have the camera manufactured and ready for delivery in November 2014 (please note this is an estimate only; we unfortunately cannot guarantee this delivery date). Please back us today to help make our instant dream a reality and make huge, exclusive Kickstarter savings!
Back the project and visit the Lomo'Instant microsite
2014-05-27 #news #people #videos #film #analogue #instant-photography #kickstarter #lomo-instant-camera