De introductie van de La Sardina Seoul editie
Share
Tweet
Het is geen geheim – Lomography is gek op Seoul! Na onze 3-delige Seoul All Around You wedstrijd, is het tijd voor de onthulling van onze unieke nieuwe camera in samenwerking met de City of Seoul: La Sardina Seoul editie! Met slechts een beperkte voorraad tijdens de lancering is dit kans om er snel één te bestellen!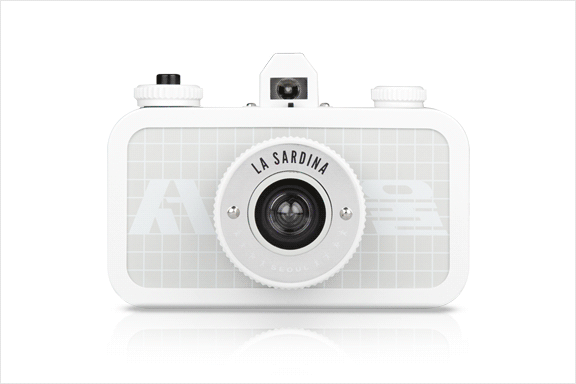 Geïnspireerd op de prachtige Zuid Koreaanse hoofdstad – deze La Sardina Seoul editie is de eerste La Sardina camera die je zelf kan customizen! Met 8 stickervellen vol patronen in de kleuren van Seoul is het nu mogelijk om je eigen camera aan te kleden. Kies voor een minimalistisch design of kleur de camera in op je eigen manier! Welke jasje je de camera geeft – je vrienden zullen verstelt staan van jouw waanzinnige groothoek foto's. Ga direct naar de Online Shop en bestel de La Sardina Seoul editie of lees er meer over op onze La Sardina microsite.
Seoul geïnspireerde feestjes
Om de komst van de nieuwe camera te vieren hebben we in alle Lomography Gallery Stores in London Soho, Amsterdam, Berlin, Hong Kong, Shanghai, Tokyo en New York Greenwich. een speciale Seoul thema week georganiseerd. Inclusief Koreaans eten, drinken, workshops en evenementen. Maar dat is niet alles – we hebben alleen deze week extra speciale acties en promoties. Dus kom gezellig langs tijdens onze Seoul week!
Seoul All Around You wedstrijd
De 3-delige wedstrijdserie Seoul All Around You, die we in samenwerking met de City of Seoul hadden georganiseerd, is afgelopen. Check de foto's en ontdek wie de drie wedstrijden – Seoul All Around You, Seoul Kitchen en S-E-O-U-L – gewonnen hebben!
Maak je klaar om koers naar zee te zetten met de nieuwe La Sardina collectie! Deze 35mm camera's zijn uitgevoerd met een spectaculaire groothoeklens, meervoudige belichting mogelijkheden en een handige terugdraaihendel – alles wat je nodig hebt voor maximaal analoge fotografie plezier! Bestel nu je eigen La Sardina camera now!
written by tomas_bates on 2012-02-23 #news #seoul #camera #limited #lomography #edition #la-sardina #exclusief #editie
translated by mrmaart