The LomoKino Smart Phone Holder is a brand new accessory for the LomoKino. It allows you to digitalize your LomoKino movies directly from the LomoKinoScope using any smartphone. Read on to find out exactly how to use it!
To attach the LomoKino Smart Phone Holder to the LomoKinoScope, remove the rubber hood of your LomoKinoScope by pulling it out (you may need to use a little force to get it off).
Flip out and hold the Fixture Plate of the LomoKino Smart Phone Holder.
Fit the LomoKinoScope lens into the opening of LomoKino Smart Phone Holder, and push it all the way down.
Push the Clamp Release Button; the clamp will be extended to its maximum width.
Put your smartphone in between the clamp and face your smartphone's camera towards the LomoKinoScope lens.
Adjust the clamp until you smartphone is firmly attached to the LomoKino Smart Phone Holder.
Switch your smartphone to "movie recording mode".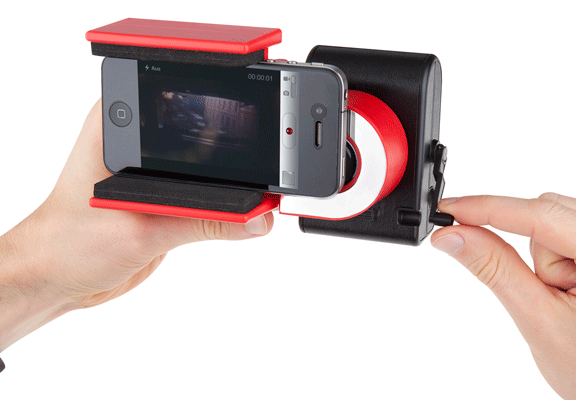 To align your smartphone camera lens and the LomoKinoScope's lens, shift the Clamp Base vertically and your phone horizontally. Once they are aligned you should be able to see the frame centered on your smartphone's screen.
Simply start recording a movie on your smartphone and turn the crank of LomoKinoScope. Your movie is now being digitalized!
To release your phone after you've finished recording, just press the Clamp Release Button.
Will the Smart Phone Holder work with my Smartphone?
The LomoKino Smart Phone Holder has been tested with the following devices so far:
Iphone 3S white
Iphone 4 white/black
Iphone 4 silver back
Samsung Galaxy S II white
Sony Ray black
Moreover, we are confident that the product should work with all smartphones which have the camera in the upper side / corner of the device and movie record button on the front of the phone.
Read more about the LomoKino Smart Phone Holder
Enter a new analogue dimension with the LomoKino. Lomography's own 35mm analogue movie camera allows you to capture action and immortalize your story on film! Shoot 144 frames on any 35mm film and create your own cinematic masterpieces. Want to watch your movie the old-school way? We also offer the LomoKino and LomoKinoscope package!
written by tomas_bates on 2012-01-18 #gear #tutorials #guide #tipster #lomography #how-to #smartphone #lomokino-smart-phone-holder #lomokino-top-tipster