A brand new LomoKino accessory, with the LomoKino Smart Phone Holder you can easily digitalize your LomoKino movies directly from the LomoKinoScope. It offers a quick and effective way of turning your analogue vision into a digital form you can share with the world. Read on for details!
How cool would it be to digitalize your LomoKino movies using your Smartphone? No need for scanning individual frames. No need to stitch everything together using movie editing software. No hassle! Well, we thought it was time to make that dream come true….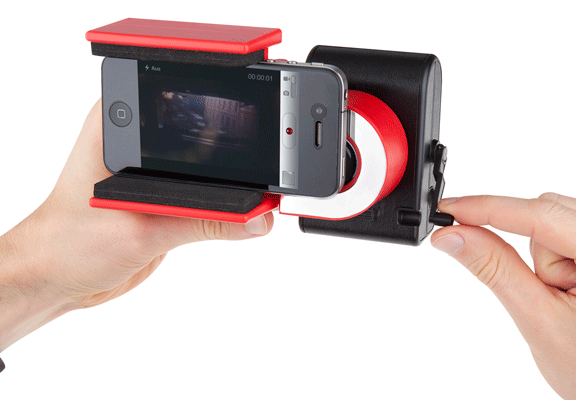 Say hello to a brand new accessory for the LomoKino, the LomoKino Smart Phone Holder! It offers a new and convenient way to digitalize your movies using any smartphone. Just attach your smartphone and the LomoKinoScope° to the Smart Phone Viewer; then start the movie recording function on your smartphone and turn the LomoKinoScope hand-crank – As you turn the crank, your movie will be recorded. It's a really quick and easy way to digitalize your movies; head to the Online Shop and order your smart movie-making accessory today!
Buy the LomoKino Smart Phone Holder
Read more about the LomoKino Smart Phone Holder
° Please Note: The LomoKinoScope is not included with the LomoKino Smart Phone Holder – It can be bought in the LomoKino & LomoKinoScope Package
written by tomas_bates on 2012-01-18 #news #new #accessory #lomography #holder #lomokino #smart-phone #smartphone