Ako používať LomoKino Smart Phone Holder
Share
Tweet
Úplne nové príslušenstvo na LomoKino, LomoKino Smart Phone Držiak ponúka jednoduchý spôsob ako zdigitalizovať Vaše filmy pomocou akéhokoľvek smartphonu. Čítajte ďalej a dozviete sa viac!
Priložte LomoKino Smart Phone Držiak k LomoKinoSkopu, odopnite gumový okraj LomoKinoSkopu, pri stiahnutí budete možno musieť použiť trochu sily.
Vyklopte a držte plochu na uchytenie na LomoKino Smart Phone Držiaku.
Nasmerujte LomoKinoSkop šošovku na otvor LomoKino Smart Phone Držiaka, a zatlačte úplne nadol.
*Na maximalizovanie kompatibility, položte priložený penový kruhový adapter na Smart Phone Držiak
Stlačte tlačidlo na uvoľnenie konzoly držiaka, konzola sa vysunie na maximálnu šírku.
Nastavte konzolu taka by pevne prichytila smartphone k LomoKino Smart Phone Držiaku.
Adjust the clamp until you smartphone is firmly attached to the LomoKino Smart Phone Holder.
Prepnite Váš smartphone na "mód nahrávania videa".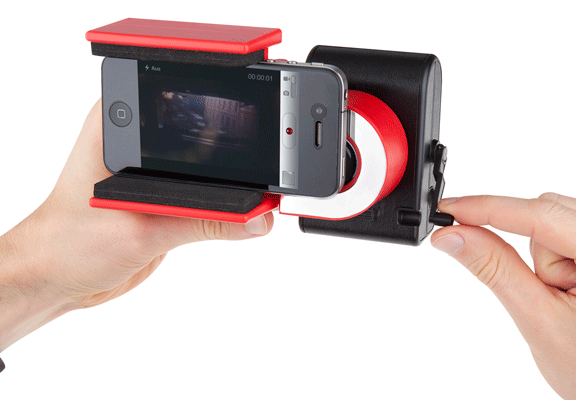 Na zarovnanie smartphone kamery a LomoKinoSkopu, posúvajte konzolu vertikálne a smartphone horizontálne kým sa nezarovnajú. Keď zarovnané mali by ste vidieť záber zarovnaný na stred smartphone obrazovky.
Jednoducho spustite nahrávanie na smartphone a točte kľukou LomoKinoScopu. Vaše video sa digitalizuje!
Po nahrávaní stačí stlačiť poistku na konzole a smartphone jednoducho uvoľníte.
Bude Smart Phone Držiak fungovať s mojim Smartphonom?
LomoKino Smart Phone Držiak bol testovaný s nasledovnými aparátmi:
Iphone 3S white
Iphone 4 white/black
Iphone 4 silver back
Samsung Galaxy S II white
Sony Ray black
V zásade by mal by fungovať so všetkými smartphonmi, ktoré majú kameru v hornej krajnej časti aparátu..
Viac o LomoKino Smart Phone Držiaku
bq. Vstúpte do novej analógovej dimenzie s LomoKinom. Lomography 35mm analógová filmová kamera Vám umožnuje zachytiť a zvečniť príbeh na film! Natočte a vytvorte Váš vlastný veľkofilm. Chcete si film pozrieť tiež oldskulovo? Ponúkame aj LomoKino and LomoKinoscope package!
written by tomas_bates on 2012-01-20 in #gear #tipster #smartphone #guide #how-to #lomokino-smart-phone-holder #lomography
translated by lomojolo